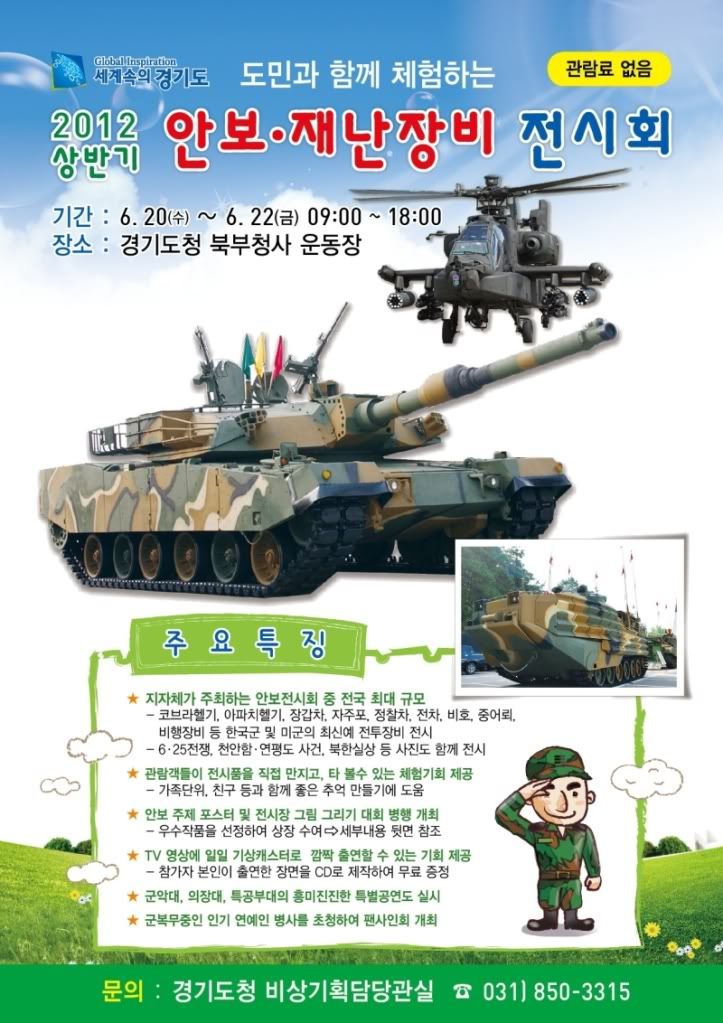 For the first half of the year 2012, the province of Gyeonggi-do will hold an event
where it will stimulate the awareness of it's residence regarding disaster prevention
and stronger security.
Event period: June 20 – 22, 2012 ( 9am to 6pm KST )
Venue: North Gyeonggi, Provincial Government Complex Ground
PROGRAMS:
exhibition of disaster equipments (helicopters, tanks, etc.)  - equipped with state-of-the-art military combat by the USA and South Korea
performance management programs which includes diverse martial arts demonstration by a  team of military band and honor guards
June 20:  3:00 PM to 5:30 PM ( KST ) – Yoonhak will participate in the autogrpah signing and photo sessions with fans
June 21:  10:00am to 12:00 noon ( KST ) – Autograph session with popular entertainer/soldiers
                   3:00 pm to 4:30 pm ( KST ) – Exhibit and photography session
Admission is free.
The schedule above is subject to change, please go to  http://www.gg.go.kr/ for further information.
source: choshinsung.co.kr and  ipcs21.com